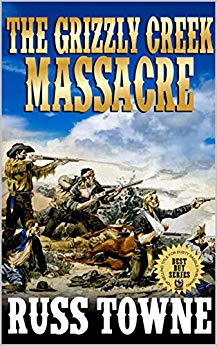 Following on from his recent Western successes! Discover something new and exciting from bestselling author Russ Towne. These are Western adventures that are filled with guns, guts and the spirit of the Old West.
The Grizzly Creek Massacre
Four young men in the cavalry witness a mutiny and brutal murder and are chased by their sadistic sergeant and his men through hostile Indian territory until they make a desperate stand at Grizzly Creek.
Hoodwinked
A crooked rancher tries to hoodwink a young man into buying a nearly worthless piece of land.
Desperation
A four-year-long drought tests the mettle of two friends and neighbors as they face the complete loss of a lifetime of work, and, perhaps much worse.
Saddle Buddies
Meeting in St. Louis, Sam and Joe head toward gold country. They encounter a 2,000-mile journey is full of hardship and danger on their 2,000-mile journey.
Fool's Gold
A beautiful woman and her fiancé create the perfect scam for fleecing mining camps full of lonely men out of their hard-earned gold, but they learn the hard way that betrayal can be a two-headed coin.
If you love the great Western adventures of Paul L. Thompson, C. Wayne Winkle, Robert Hanlon and Scott Harris—you'll love this new, exciting release from Russ Towne! $0.99 on Kindle.