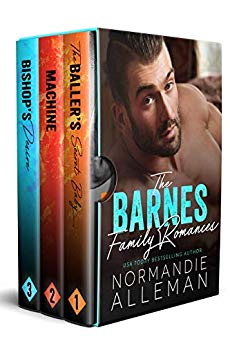 Members of the Barnes family appear to have it all—money, power, and fame.
But they crave the one thing money can't buy—love.
In these steamy romances, readers will discover a heartwarming second chance for childhood sweethearts, a surprising marriage of convenience, and a secret that threatens to rock the Barnes family to its core.
This set includes:
The Baller's Secret Baby
When childhood sweethearts Nick and Eden are reunited, they fall for each other hard. But Nick has no interest in settling down, so when that little stick shows an unmistakable plus sign, suddenly, everything is on the line. With a secret baby on the way, will Nick realize that having the home court advantage is what he's wanted all along?
Machine
Former SEAL Bridger Thompson is worried his secret life will destroy his relationship with reality star Dynassy Barnes. She stirs a desire in him that he hasn't felt in years, and he's determined to make her his, even though he fears he'll never be able to love her the way she deserves.
Bishop's Desire
When the irresistible Episcopal priest Eduardo Soto offers to marry her, Chloe Thomas views it as a marriage of convenience.
For him, it could be the salvation he so desperately needs.
But when Chloe is offered the opportunity of a lifetime, will she leave her new husband behind after all he's sacrificed for her? $0.99 on Kindle.

[shareaholic app="share_buttons" id="4690042"]