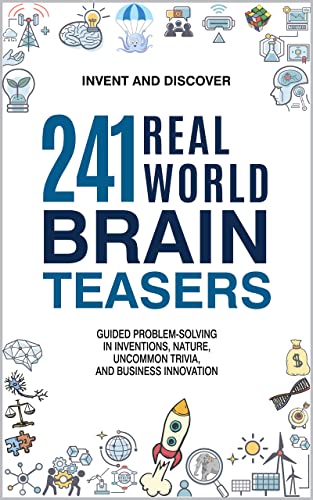 Challenge yourself to figure out creative solutions to real-world problems that have led to important inventions, discoveries, and innovations throughout history!
Do you love trivia quizzes…but wish these didn't rely so much on useless facts that you simply either know or you don't, leaving no room for actual thinking?
Do you enjoy mental puzzles…but want to come away with something more valuable than just getting the right answer to abstract, theoretical problems? Something more practical, perhaps?
This book aims to change the game.
Experience walking in the footsteps of discoverers, inventors, and innovators through taking on real-world problems that challenge you to tap into lateral thinking and creativity.
Part knowledge question and part logic puzzle, each of these 241 real-world brain teasers will challenge you to think of things in a new light and solve problems creatively.
Our unique questions are specially designed to lead you through solving actual challenges that people have faced in the real world — no trivia knowledge necessary! Everything you need for brainstorming your way to a solution is baked right into each carefully crafted question and helpful hint.
In this book of brain teasers, you'll find:
+ 241 engaging problems across 12 fascinating topics including Ingenious Inventions, Business Innovations, Nature & Science, Historical Happenings, Folk Wisdom from different cultures around the world, and many more.
+ Specially designed easy-to-navigate format that eliminates the need to flip back and forth between sections, helping you keep the fun going and avoid accidentally stumbling upon answers.
+ Chapters, arranged by difficulty and subject so you have complete control over how you play.
+ Answers that go beyond fun facts, giving you a bit more insight into how the world works and what makes people tick.
Give your brain a good workout with these unique real-world brain teasers! $0.99 on Kindle.