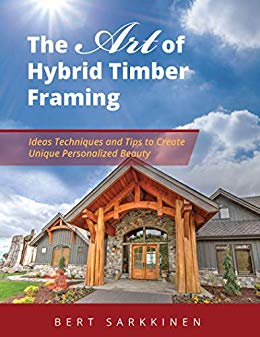 Post & Beam Timber Framing Uncovered!
Full timber framing is a thing of the past, generally speaking. The art of hybrid timber framing is a must read for owners, architects, and builders who want to influence the look and feel of their projects using exposed beam construction. Hybrid timber framing utilizes post & beam as well as modern & historical timber framing systems to create the ideal timber experience in a home or structure. Design is not held back by the constraints of traditional stick-built homes, or full timber frames. With this flexibility, the design must be carefully considered before the build starts.
With Hybrid Timber Framing, your options are many, but initial decisions have a massive impact on final result and satisfaction. This book educates owners, builders, and architects on the decisions that must be covered during the design and planning stage. It is rich with ideas imagery and instruction to jumpstart your inspiration and planning. Free on Kindle.