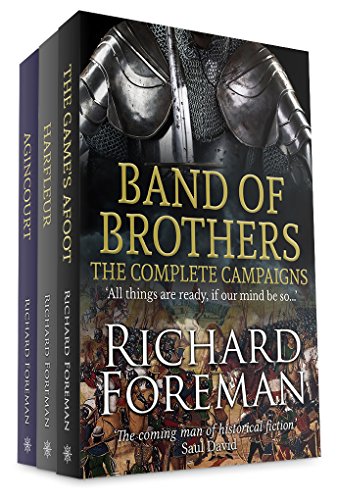 'Escapism at its best… A great read that tells much about the style of war and how the individuals fought.' Michael Jecks.
The Game's Afoot: 1415. England stands on the brink of war with France.
Henry V receives intelligence, through his agent Thomas Chaucer, that the French intend to re-forge their old alliance with Scotland. The King orders Chaucer and veteran archer Robert Cooper to travel across the border and intercept a French agent, Reynard of Troyes, before he can deliver the gold which will fund Scotland's war with England.
Chaucer also learns of a plot to murder the man that England cannot afford to go to war without. He orders the man-at-arms, Edward Fordham, to remain in the capital, solve the mystery and stop the assassin. But all is not what it seems. Some wars are fought in the shadows as well as on the battlefield…
Harfleur: 1415. Harfleur. The town stands defiant. Henry V and his army have been repulsed. If the English fail to break the siege then their campaign will be over. The King instructs one of his agents, Thomas Chaucer, to negotiate a deal with a local French merchant to re-supply the army. But, instead of meeting an ally, Chaucer is about to come face to face with an old enemy.
Henry, in a last throw of the dice, charges the archer Robert Cooper with ending the siege. The bowman forms a plan. The night attack will either save the English army – or damn it. Once more into the breach…
Agincourt: 1415. Agincourt. Victory or death. Kill or be killed.
The English are outnumbered. But Henry V is determined that his army won't be outfought. Robert Cooper and his company of archers must face a new threat, as well as do battle with the old enemy. And as the two sides prepare to engage each other the spy, Thomas Chaucer, and his man-at-arms, Edward Fordham, must travel through enemy-held territory, in order to hunt down Reynard de Troyes.
The ruthless French agent will stop at nothing to defeat all his enemies, including Chaucer and Fordham…
Richard Foreman is the author of numerous best-selling books, including Augustus: Son of Rome and the Sword of Rome and Sword of Empire series of historical novellas. He is also the author of 'Warsaw', a literary novel set during the Second World War. He lives in London. $0.99 on Kindle.