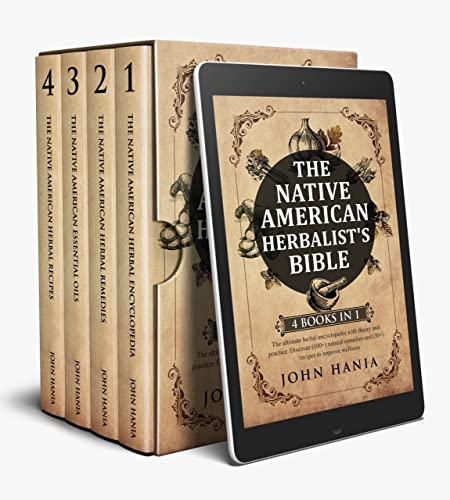 It's a fact: natural plants offer solutions for our health and wellbeing. In fact, did you know that Native American healers have been developing effective herbal remedies for over 40 years? If you've been looking to switch to a more natural lifestyle then you've got to start now, and this book is perfect for you!
Are you constantly dealing with diseases that just don't seem to be able to be cured? Have you grown tired of using expensive and synthetic medication that is just ineffective? Do you want to start using raw and natural products but just don't know where to begin? Well look no further, you've found the perfect book!
This 4-in-1 informative guide is inclusive of theoretical and practical guidelines that include a multimedia encyclopedia for reference with illustrations to help you identify the herbs and plants, and recommendations on how to get started on your dispensary by preparing, preserving, and storing your herbs and medicinal plants.
Inside The Native American Herbalist's Bible, you'll discover:
An introduction to Native American herbal and medicinal treatments and why they're still relevant in this modern age
Over 30 wholesome recipes ranging from breakfast, main meals, and traditional native American desserts
Ways to take care of your wellness using aromatherapy and essential oils
How to take care of your pets, manage personal hygiene, and maintain your household the natural way!
Over 100 herbal treatments designed for children, men, and women to tackle common illnesses
You have just discovered a treasure trove that will allow you to reconnect your mind, body, and spirit to the healing and restorative properties found in mother nature.
From now on, you will take charge of your family's health and wellbeing the natural way! No more stressing about overpaying for conventional medical treatments or dealing with their toxic side effects!
Are you ready to unlock the healing power of nature? $1.99 on Kindle.