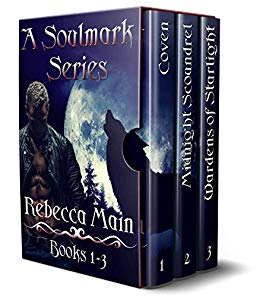 Get the explosive beginning to the highly acclaimed 'A Soulmark Series', Books 1-3, from breakout author, Rebecca Main!
Become entangled in warring hearts, old grudges, and shameless sexual tension.
Coven (A Soulmark Series Book 1)
"Stay out of the forest," Gran had said. Zoelle should have listened.
Now, she must navigate a world she only ever read about in fairytales. A world full of witches and werewolves out for blood. Yet, no story could have prepared her for Xander Adolphus—the volatile Alpha of the Adolphus Pack—or the seductive soulmark that binds their souls together.
Trapped in a carnal game of cat and mouse, Zoelle must tread unfamiliar ground, steeped in supernatural politics. Can Zoelle outrun a wolf bound and determined to mark her as his? Or will this new world swallow her whole?
Midnight Scoundrel (A Soulmark Series Book 2)
Stealing isn't personal. At least not to Quinn Montgomery.
Yet, when her latest heist to steal from the Adolphus family tailspins her into a supernatural world, she must learn to steel her nerves and… her heart.
Wardens of Starlight (A Soulmark Series Book 3)
Evil hides in all shapes and forms—of this the Wardens of Starlight are certain—but it's those of the supernatural variety they hunt without remorse.
By a cruel twist of fate, Starlight Warden Calliope Sawyer is forced to question everything she's come to know when confronted with her soulmark: a dangerous lycan. Now, these two enemies must decide whether to fight for love or fight each other. $2.99 on Kindle.