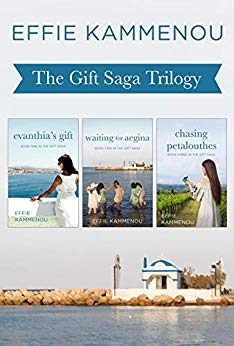 The Gift Saga Trilogy is now a complete set. Three books: Evanthia's Gift; Waiting For Aegina; Chasing Petalouthes.
An epic multigenerational love story and family saga set in both New York and Greece, spanning over eight decades with each book's perspective focusing on a different generation. From Kefalonia in the 1920s and war-torn Thessaloniki in the 1940s to Nostalgic NYC in the 1950s and leading to more current times, follow this large group of family and friends through heartbreaks and triumphs as they find their place in the world.
The Gift Saga is an homage to family, tradition, heritage, perseverance, and everlasting love in all its many forms. Love—unbinding, unbreakable, undeniable—love is eternal. $1.99 on Kindle.