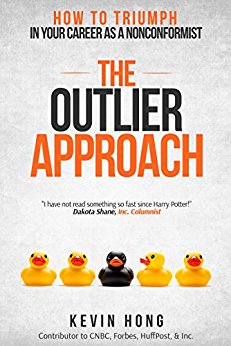 PRACTICAL TACTICS AND REAL STORIES TO HELP YOU MAKE BREAKTHROUGHS IN YOUR CAREER
You don't need a fancy ivy-league degree, to be born into wealth, or have great connections to achieve MASSIVE SUCCESS
Not everyone is like Steve Jobs or Elon Musk. However, that doesn't mean massive success isn't right around the corner. Often times, our perceived weaknesses are our greatest strengths.
FLIP YOUR WEAKNESSES INTO STRENGTHS.
Our Most valuable resource is time. It is the only resource that is not replenishable. In the name of networking, we waste precious time spending it on networks that hold us back. Stay away from the Frenemy Zone and learn to build a vertical network.
LEARN THE TRICKS OF TRADING SOCIAL VALUE TO BUILD POWERFUL CONNECTIONS IN ANY INDUSTRY
From building his last startup to a $15M valuation to selling beepers in Compton and making nearly $10K/month after immigrating to the US with broken English, Kevin Hong has learned the power of selling vision. Sell vision to win job interviews, raise money, and recruit superstars for your cause.
MASTER THE ART OF SELLING VISION TO ANYONE
Kevin Hong who has been featured in the NY Times, LA Times, The Verge, CNBC, and many other media outlets and who has contributed articles to CNBC, Forbes, Huffington Post, and Inc. Magazine will teach you the Power of Reality Distortion. He built his last startup by living in a van with his entire sales team for over 2 years and raised over $4M in venture capital money.
RE-ENGINEER YOUR REALITY BY RE-DEFINING YOUR EXPECTATIONS
Too many books discuss the same people, the same companies, and the same concepts, resulting in cliche advice. Kevin Hong, a brutally candid journalist, goes out of his way to interview the most breathtaking stories.
REAL-LIFE EXAMPLES AND STORIES ALONG WITH ACTIONABLE ITEMS
Deep inside we are all nonconformists and you will never have the career or lifestyle you desire by following the status quo.
BUY NOW AND UNLEASH THE NONCONFORMIST IN YOU. $3.99 on Kindle.