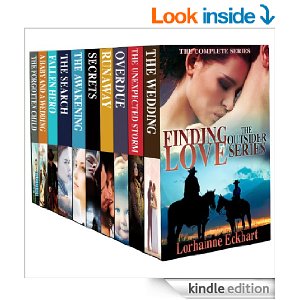 From the #1 Amazon Bestselling Author in Westerns and Western Romance, comes The Outsider Series: The Complete Collection which includes all the stories in this sizzling romantic collection.
****Warning
:
 If you are looking for a sweet romance, this series is not for you.
Although this series is filled with ideals of family, love and loyalty, the Friessen men are strong sexy alpha males. Each book and short story in this series is filled with sexual tension, romance, rough language, and passion. It is for those who enjoy adult contemporary romance, women's fiction, and western romance.
Praise for The Outsider Series… 
Wow one of the best series I have read yet! I want a Friessen brother too! Amazon Reviewer – Suzie
Overview:
This collection includes all the books and short stories of the hot and sexy Friessen men and the strong and vulnerable women they love.
THE FORGOTTEN CHILD: – #1 AMAZON BESTSELLER in Romance Series & Westerns. How do you tell a man there is something wrong with his child?
A BABY AND A WEDDING (The Forgotten Child to Fallen Hero bridge short story of Brad & Emily)
FALLEN HERO: A cowboy who walked away from his family's fortune. A woman  who returned  for justice. What they didn't expect was to find love.
THE SEARCH (Fallen Hero to The Awakening bridge short story of Andy, Jed and Diana): When her husband goes missing she's forced to call the one man she shouldn't.
THE AWAKENING: A young woman who's lost everything, and the wealthy rancher who saves her.
SECRETS: "Jed always told me he'd take care of everything. And I believed him, I trusted him, I loved him."
RUNAWAY: Andy sets out to bring his runaway bride home. But when he finds her, he's in for a big surprise.
OVERDUE: (Runaway to The Unexpected Storm bridge short story of Jed and Diana)
THE UNEXPECTED STORM: He can have any woman, except the one he wants.
THE WEDDING: A man who's always planned everything, and a woman who's struggled alone–The Wedding will change their lives forever.