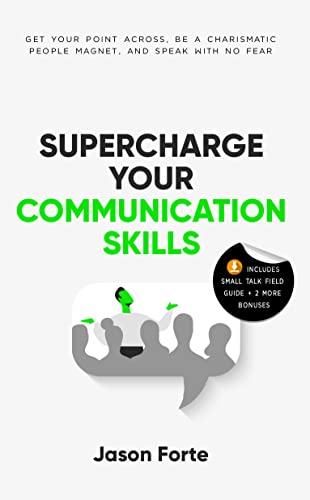 Supercharge Your Communication Skills is the complete guide to catapult your personal and professional relationships to the next level.
Learn the subtle art of being likable and forming real connections, have effortless conversations, and overcome self-sabotaging dialogue that leads to awkwardness.
Effective communication is the bedrock of human relationships! If we can't connect with others, we will never get the chance to hit the jackpot in life.
Jason Forte pulled himself from the grips of debilitating social anxiety as a teen and has spent nearly a decade in the corporate trenches as a social skills coach, helping clients unlock their full potential through effective communication. His writing draws on scientific research, psychological principles and real-world experience.
This book will teach you to unleash your self-confidence and effortlessly become the most interesting person in any social setting – whether it's small talk at the coffee machine, a job interview, or a tough conversation with a loved one. You'll learn to apply unexpected negotiation tactics that level the playing field in any conversation. Most powerful of all, you'll learn to assert yourself simply by listening and asking the right questions – a tactic that never fails. $0.99 on Kindle.