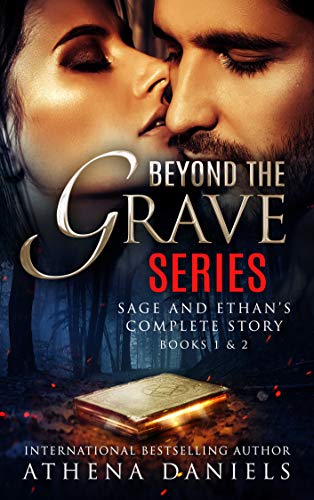 The first two full-length novels in the bestselling and multi-award winning Beyond the Grave series.
The Seer's Daughter: Book 1
To save her, he must let go of everything he ever believed.
Upon returning to her hometown for her grandmother's funeral, Sage Matthews is terrorized by a series of strange events. She dismisses each eerie occurrence as a by-product of her overwrought emotional state, until it becomes chillingly clear that something not of this world is desperate to get a message—or is it a warning?—through to her…
Detective Sergeant Ethan Blade comes to Cryton, South Australia, to catch a serial killer. When Ethan meets Sage—the latest victim's beautiful granddaughter—his attraction to her is explosive and inconvenient. He knows she's not crazy, but Sage's theory about the murders is unbelievable.
With the handsome detective rejecting her ideas, Sage embarks on the supernatural journey that her grandmother started. What she discovers shatters everything Sage ever knew about herself—and who she really is.
Ethan's routine case quickly turns personal when he discovers Sage is the killer's next target. For her, he'll break all the rules and cross every line. But how can he protect Sage from an evil he cannot even conceive of?
The Alchemist's Son: Book 2
The thrilling conclusion to Sage and Ethan's journey that began in The Seer's Daughter.
White witch Sage Matthews has inherited a gift that makes her both integral to an ancient prophecy and a target for a demon-possessed serial killer. Assigned to catch the killer, Detective Sergeant Ethan Blade falls wildly, and inconveniently, in love with the one woman he doesn't know how to protect.
Together Sage and Ethan delve into the prophecy, and the more they learn, the more deadly their situation becomes. At midnight on the night of the blood moon, an ancient doorway will open, and a master demon and his horde will pour through and unleash hell on earth. Only Sage can stop their onslaught—but not if the demon kills her first.
With the blood moon looming, Sage discovers she can join forces with "the alchemist's son" to destroy the demon. But who is the alchemist's son? And will he be willing to make the ultimate sacrifice required to end this struggle between light and dark forever? $0.99 on Kindle.