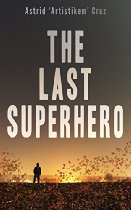 Steven S. Waldorf, the last superhero to roam the Earth, has decided to break free from decades spent living in seclusion.
Giana is single, broke, and trying to keep her terminally ill mother's bookshop afloat has made her bitter beyond her years.
All this changes, however, when a superpower-wielding costumer saves her from getting mugged during closing time. Act that will not only spark a love relationship between them but put him face-to-face with his nightmares, turning her into his only hope for survival in the meantime. $1.99 on Kindle.