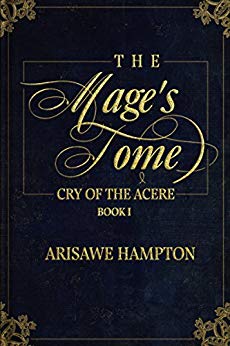 A Humorous Fantasy Adventure About a Hermit Mage and His Ragtag Friends.
The Acere have spoken; the tome must come to the mage.
Among the rubicund grasslands to the forests of Roan, a quest begins at the onset of royal betrayal. The fate of Roan rests on the hermit mage, Pyrus, who has singular powers but is loathe to help. Yet, the susurrus words of the ancient Gods have promised that he will be instrumental to their plans. Their entreaties show him the nature of their magic. He must first avow to create the soldier, and he must also protect the Lady.
Meanwhile, seething in the pit, the Hellion will soon emerge.
They all will be tested, yet it is Pyrus who holds the key to camaraderie and purpose.
The debut epic Duology The Cry of the Acere, from Arisawe Hampton, is a new addition to the fantasy tradition of Brandon Sanderson, Raymond Feist and K.F. Breene. $0.99 on Kindle.