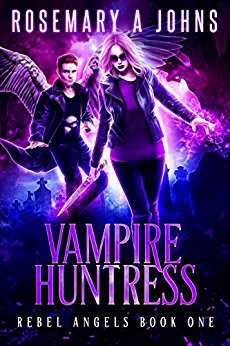 Vampires and angels are locked in a deadly war. But first, they want their daughter back.
Half vampire/half angel, Violet, was abandoned amongst the humans in London as a baby. Suddenly discovering monstrous powers on her twenty-first birthday, she thinks she's the most dangerous creature to prowl the streets.
She's wrong.
When a snarky angel falls into her lap and her adopted sister disappears, Violet is forced into a new role: Huntress. But the deeper she's dragged into this supernatural world, the more she struggles to survive.
On the run, Violet'll have to rely on a sexy vampire geek, while facing off the harem boy angel threatening her sister. And there's only one way she'll win: by letting out the monster… $0.99 on Kindle.