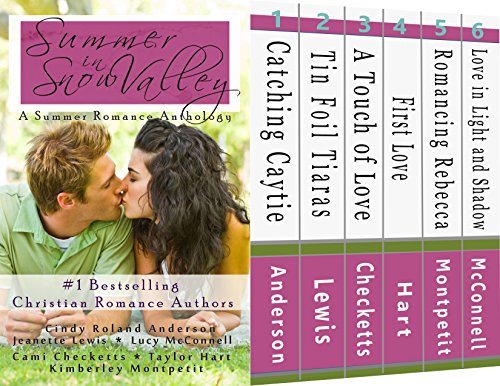 The #1 Bestselling Authors of CHRISTMAS IN SNOW VALLEY have teamed up again with SIX novellas that are sure to make your summer sweet and sassy!
CATCHING CAYTIE by Cindy Roland Anderson
On the night Caytie Holbrook intends to break up with her cheating boyfriend, he blindsides her by announcing their engagement at a dinner party. When Caytie discovers her father is in on the scheme, she runs away from her home in Beverly Hills to hide out at her uncle's ranch in Snow Valley, Montana. Caytie only plans to stay until her twenty-fifth birthday when she'll inherit a trust fund her grandmother left her, allowing her to pursue her dream to move to Italy. That is until she meets Jace McAllister, an incredibly sexy—although somewhat grumpy—cowboy who threatens to disrupt her plans.
TIN FOIL TIARAS by Jeanette Lewis
Cameron Elliott has come to Snow Valley to coach Annalisa Drake in the Miss Snow Valley pageant, and prove to her demanding boss that she deserves a place at the prestigious Westbrooke Agency. But Annalisa's handsome and protective big brother, Kyle, is determined to keep his sister from becoming a reluctant beauty queen. As Cameron tries to win Kyle over, Kyle insists some things are more valuable than a title and as crazy as it sounds, Cameron might believe him.
A TOUCH OF LOVE by Cami Checketts
Annie Stirland has endured a lifetime of embarrassment and isolation due to her speech impediment. When irresistible cowboy, Luke Wilson, seems to be falling for her, she's certain he's too good to be true. A tragedy involving his ex-girlfriend proves she's right. What man can resist sheltering someone they once loved? Annie knows she should walk away, but Luke isn't ready to give her up.
FIRST LOVE by Taylor Hart
Janet Snow doesn't expect to get caught in a make out session at her brother's wedding. Especially not with Michael Hamilton, the boy she'd written off ten years ago. Even though they both agree to no complications, Janet's not sure they can . . .