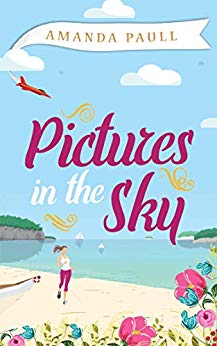 She gave up on romance years ago. He's going through the motions. Their lives change forever when he makes contact out of the blue. 

With her daughter leaving the nest, Michelle Cameron would rather spend her time with good friends, a glass of fizzy and a box set, than with another idiot bloke chipping away at her self-esteem. But when childhood friend Daniel Helmsley gets back in touch, the years roll away on a tide of laughter and friendship, which soon gives way to another roller coaster of love, excitement and panic. Can Michelle let herself trust again? Is Dan the honourable man he claims to be? What if he is just another selfish bloke, disillusioned with the present and nostalgic for the past?

If you like a story that makes you laugh as well as cry, then you'll love this tale of past disappointment, renewed friendship and finding true love.
Download Amanda Paull's Pictures in the Sky today to discover if Michelle dares to love again.
"Your lively style and humour are exactly right for this genre." — Susan Davis.
$2.99 on Kindle.