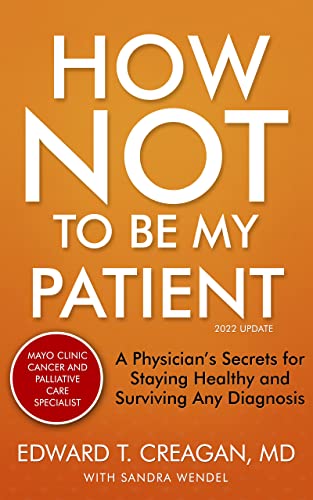 COVID changed everything. Mayo Clinic's Dr. Edward Creagan addresses critical changes in the healthcare delivery system and survivorship in this REVISED third edition of his award-winning book for empowered patients.
"This book is for everyone who decides to take charge of their own health and their own destiny." Dr. Sanjay Gupta, CNN
The facts are clear. If you want to be healthy for life—
• Learn to talk so your doctor will listen.
• Get insights on how to navigate patient portals and telemedicine visits.
• Understand your diagnosis—and realize that you can survive bad news.
• Follow Dr. Ed's 8 simple commandments for living well—and you'll live long enough to cash in your 401(k).
• Separate hype from hope, especially with perplexing medical headlines and confusing internet information.
• Get insight into what your doctor wasn't taught in medical school.
• Combine the best of traditional and complementary treatments.
Dr. Edward Creagan treated very sick patients for more than 40 winters at the renowned Mayo Clinic. This book is not just about lifestyle choices, although these are important aspects of Dr. Creagan's healthy living plan. It is about using your precious minutes in the exam room (the average doctor visit is about 16 minutes), forging the right kind of relationship with your care providers (because that world is changing quickly), and understanding and using the healthcare system—instead of having the system use (and often abuse) you.
Edward T. Creagan, MD, FAAHPM, is Professor Emeritus of Medical Oncology at the Mayo Clinic Medical School, Emeritus Professor of Humanism in Medicine, and Emeritus Consultant in Palliative Medicine. He is board certified in internal medicine, medical oncology, and hospice medicine and palliative care.
$0.99 on Kindle.


Author:
Edward T. Creagan, MD