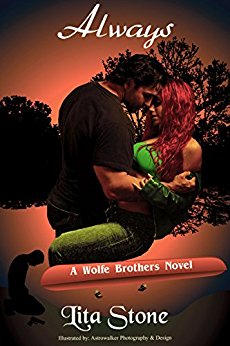 This here is the starting line for the Always Until Never series. And yours truly, Max Redford, is bringing the smokes and whiskey to this good ol' Texas block party. Yeah, we gonna be good ol' neighbors for a bit, so pull up a chair.
The folks and their stories that you're gonna find in the Wolfe Brothers series aren't your usual most upstanding, reputable, or even nice guys — or gals. If you're looking for sweet and wholesome romance with girls next door and suave gents, well then . . . you're in the wrong neighborhood.
But if y'all are into realistic folks who've endured hardship and keep on living by their own principles and their own family values, then you're gonna fit right in 'round this town. We got scars on our flesh and scars on our hearts, and our clothes ain't designer, and we always know the faces of the people at Walmart.
The Always Until Never (Volume 1 of the Wolfe Brothers Series) is a gritty, sweeping romance and family saga that deals with real life's hardships including: alcoholism, rape, effects of child abuse and bullying, psychological instabilities, vigilantism, family unity, revenge, political corruption, condemnation, redemption and more. Free on Kindle.