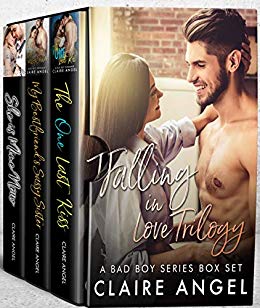 Book 1- *The One Last Kiss*
She was a breath of fresh air.
I found myself in a difficult position.
She wasn't like the other girls.
Corrupting her that first night was wrong.
Can I keep my hands off of her?
Book 2- *My Best Friend's Sassy Sister*
She was my best friend's sister.
Nothing could ever happen between us.
It's her birthday.
I want her to blow out more than candles.
These feelings are wrong.
Why can't I stop thinking about her?
Book 3- *She Is Mine Now*
She was a work of art to be appreciated.
I want to show her mercy.
She's not going to be a puppet on my string.
She has made me a slave to my desires.
What happens when she shows me the man I can be? $0.99 on Kindle.