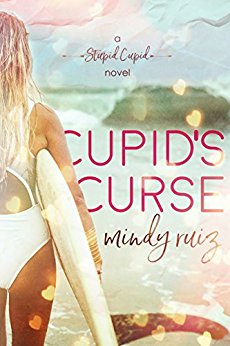 A stand-alone, second chance romance where a snarky Cupid takes on a meddling god to save the soul of the man who broke her heart. Brought to you by USA Today Bestselling Author, Mindy Ruiz.
"I'll never love again!"
That simple sentence to never be a sucker for the swoon could land you cursed to play Cupid.
I should know.
I'm Jaquelyn Alcantar and I'm cursed.
Six years ago, I picked up the shattered pieces of my heart and gladly handed them to Eros, the God of Love, and joined the ranks of his Cupid Corps. Now, one Cupid arrow away from immortality, I've been ordered to return to the beach city where I grew up and train my replacement.
Should be easy peasy, but this is Eros.
I'd be a fool if to think the god of love doesn't plan on tripping me up.
Eros would love to try and make my almost immortal heart flutter again.
I'm cursed, not stupid.
And I won't ever fall for Hugh Halia. $0.99 on Kindle.