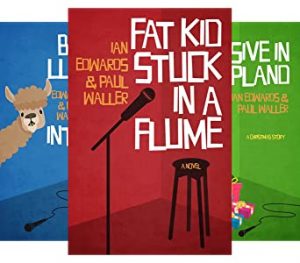 Alan Rose is a part time comedian and full time civil servant . He spends his days dodging work and his nights in run down comedy clubs, dreaming of the big time.
Frankie Fortune was a minor music hall celebrity making a comeback in the alternative comedy scene of the 1980s before his untimely death .
Two comedians. One Alive. One Dead. A theatre that needs saving from developers. A visit to the peculiar village of Maiden's Dribble and the mysterious Sanctuary of the Bee. A Christmas trip to Lapland and a starring role role in the paranormal TV series 'Scared Stiff.'
Join Alan and Frankie as they try to make sense of the world across four hilarious books.
From $1.24 to $4.11 on Kindle.