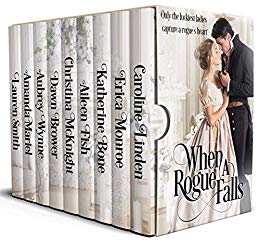 Only the luckiest ladies capture a rogue's heart. Indulge in this nine book collection of rogue's who fall helplessly in love with the ladies who bring them upto scratch.
The Secret of My Seduction by Caroline Linden
Stealing the Rogue's Heart by Erica Monroe
The Pirate's Debt by Katherine Bone
That Miscreant Marquess by Aileen Fish
Adeline by Christina McKnight
A Lady Hoyden's Secret by Dawn Brower
Rhapsody and Rebellion by Aubrey Wynne
Love Only Me by Amanda Mariel
His Wicked Embrace by Lauren Smith
$0.99 on Kindle.
[shareaholic app="share_buttons" id="4690042"]