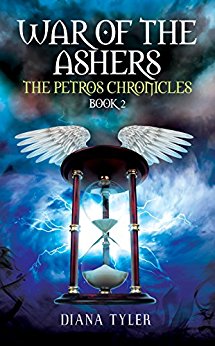 A family feud of mythological proportions….
To save the present and secure the future, Chloe must return to the past, to an age when the stuff of myth is a terrifying reality.
With the Councilman's guards hot on their trail, Chloe, Damian, and Ethan dive through a mystical portal that transports them to the ancient hills of Ourania where they swiftly learn that Petros is literally crumbling in the warpath of Mania, the powerful rogue Asher who's hell-bent on ruling the world and erasing every trace of Duna, the true creator against whom the rebel gods are fighting.
With the lords of the Underworld on her side, a colossal chip on her shoulder, and a doma by which she commands the elements, Mania appears utterly indestructible. The only thing standing between her and global domination is the last few Ashers hiding in the hills, scrambling to devise a plan and make sense of the mysterious shapeshifter in their midst…
If Chloe and her friends don't act quickly, Mania will be in possession of the magical ambrosia that gives the gods their immortality. And if she becomes immortal, their fate is inextricably sealed, and the future of Petros will be darker and more hopeless than ever.
In this riveting sequel to Age of the Ashers, Chloe and Damian must embrace their destiny by facing the resistance Orpheus prophesied would come. Will they band together, or will the bitterness between them make everything fall apart? $0.99 on Kindle.