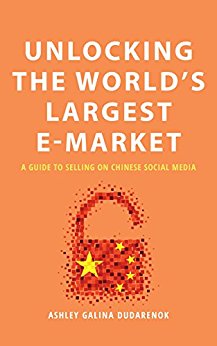 This book is a must-have for anyone who's working with Chinese social media or planning to enter China. It's packed with the latest information, actionable insights and strategies for marketers to make the most of WeChat and Weibo. You'll learn about Chinese consumers, WeChat and Weibo working models and the outlook for digital trends in customer relationship management, artificial intelligence and what kind of changes 'New Retail' will bring.
– What Every Marketer Needs to Know about China
– How Your Business Can Harness Chinese Social Media
– WeChat: China's Operating System
– Weibo: China's Online Hotspot
– The Future: Get Ready for New Retail
Whether you want to enter the market for the first time, expand your presence in China or provide services to Chinese tourists abroad, "Unlocking the World's Largest E-market" offers practical advice about selling on Chinese social media from someone who has seen the transformation in China's online world firsthand. $0.99 on Kindle.