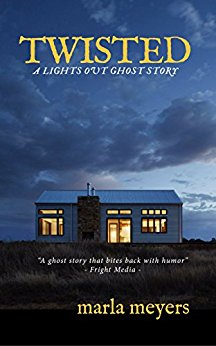 RELEASED TODAY!
"This story is scary sauce with a side order of quirky. Pure Entertainment."
~ Lighthouse Reviews ~
Stella has an injured hip, but she's hardly ready for a retirement home. At seventy-two, she's enjoying life on her own for the first time. But when Stella's daughter—Jennifer—begins to question Stella's mental state, Stella must hide the happenings in her own house, or face being sent to a home for the elderly.
Jennifer sees Stella's mind slipping away. There's no other explanation for her mother's behavior, claiming to hear mysterious voices, carelessly destroying household items, and believing that someone has threatened to cut off her fingers.
Can Stella cohabitate with the original ghostly owner of the house and keep her home? Or is her daughter correct, that Stella is losing her mind?
As a lonely widow finds comfort in a new friend, danger is brewing. And not just for Stella. Her granddaughter becomes entangled in the web of deception, putting all of Stella's family in harm's way. $2.99 on Kindle.