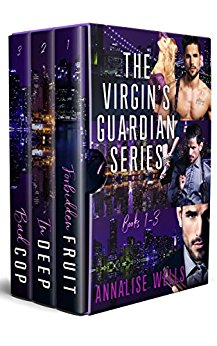 The Virgin's Guardian Complete Series
She's out of bounds… the gorgeous Paige Morgan. Only trouble is, I just can't seem to stay away. She's the perfect temptation; forbidden fruit. But all I want to do is eat it, devour it, and then do it all over again. This is going to be hell in a handbasket or fruit salad; I'm not quite sure which one.
"Bodyguard." "Protector." "Hero." "Ex-cop." These are the names I'm used to hearing about myself. But they're not the names Paige Morgan calls me. Not by a long shot! She's not one to rub my ego the right way. At least not yet.
Her dad's a successful politician who's passing a bill that will affect New York's most infamous mafia family. They're not happy at all about the trouble it's caused, so far. It's a race for the girl who I've been hired to protect from all the trouble. I need to keep her out of harm's way. There's just one small problem, I think I'm falling for her… in a big, overly-unprofessional way. She's that heavenly kind of beautiful, and sassier than I know how to handle. I've got to keep my focus, somehow.
Just when you think things can't get any worse, they do. It's a game of cat and mouse, over and over again. But where on earth will it all end? And how will the Italian mafia help me? Surely, that's not possible considering the high stakes in this ceremonious game we all play. Oh well, here goes nothing…$0.99 on Kindle.