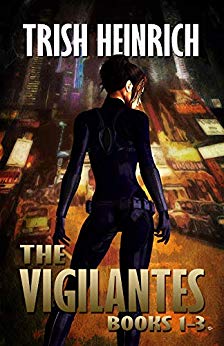 Sometimes, you need more than a hero. Sometimes, you need a Vigilante.
Serpent, Steel, and Shadow have pledged their lives to defending the innocent. But crime bosses and drug dealers are nothing compared to the nightmare villain Phantasm. When they are powerless to stop the destruction of the city they love, the trio is torn apart.
Now, they must find a way past betrayal and heartbreak to stop Phantasm from erasing a generation of super-powered children. Even though it might already be too late.
The Vigilantes boxed set contains the first three books of an exciting new superhero series. If you love fierce heroes, high stakes suspense and chilling villains then you'll love the first three books in this series!
Suit up and get The Vigilantes Books 1-3 today! $2.99 on Kindle.