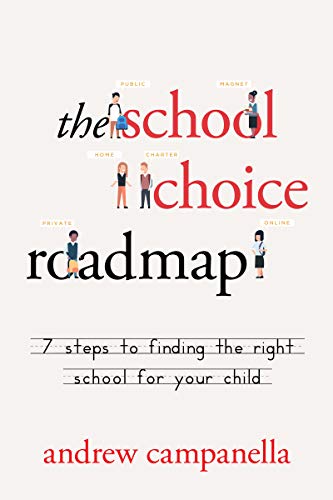 Every parent wants their child to receive a quality education. But with more school choice options than ever before, how can parents find the right school for their daughter or son, a school that will inspire, motivate, and challenge their child to succeed and be happy?
The School Choice Roadmap is a first-of-its kind, jargon-free guide for parents, designed to help parents identify their children's needs and find ideal learning environments for their kids. The book provides an overview of the six different types of school options – public, charter, magnet, private, online, and home. It also offers seven easy-to-follow steps that parents can follow, complete with worksheets and exercises.
A Mom's Choice Award winner and a National Parenting Product Award winner, The School Choice Roadmap has been described by Kirkus as a "straightforward…useful companion for those on a school choice journey." According to Foreword/Clarion Reviews, "With a convincing platform that's based on helping children thrive, this is a fair-minded resource." $8.49 on Kindle.