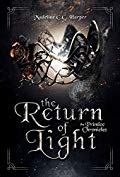 Passing high school chemistry is the least of Brie Fyre's worries.
The seventeen-year-old's life is forever changed when she meets mysterious new kids, the heavily scarred Chloe Martin and her wolfish stepbrother, Alex Stone, at her boarding school in Hemlock Falls.
New faces may not be so new, after all.
After a party in the woods goes from boring to bloody, Brie is dragged to Prim-Terra, land of the primlocs, a magical race of beings created long before humans.
Nine powerful families from ancient bloodlines rule the land of Vahalia, each of who wields a deadly ability. The Blood of Silverstone has the power to grow the most beautiful of roses with one hand, all the while choking you with a vine in the other. The Blood of Windermere can soar amongst the ravens, while the Blood of Borgen can swim with the meremaidens. The Blood of Diagon may turn wood into ash with a flick of their wrist, but the Blood of Blackheart can turn diamonds into ash with a curl of their palm.
In order to survive this ruthless world and find out the missing pieces of her past, she must adapt to life in a dangerous game of power struggles, ever-changing alliances, and the occasional bewitched vine trying to make you a midnight snack.
With the High Lord hunting her to complete an ancient prophecy stemming back to the Age of the Gods, the girl must seek the help of the very people who dragged her to this world as she learns to play a dangerous game of life, death, and love.
As the hunt begins, Brie must decide which role she shall play – hunter or prey? $2.99 on Kindle
[shareaholic app="share_buttons" id="4690042"]