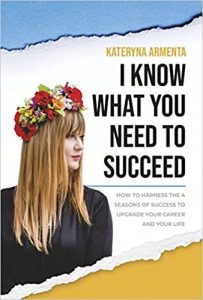 Embrace your true calling and dare to live your best life with this inspiring personal success story!
Beautifully written to empower women of all backgrounds, this straightforward and thought-provoking book challenges you to step beyond your comfort zone, find your true calling, and silence your inner critic for good! Inside, you'll join author and life coach Kateryna Armenta as she recounts her personal journey as a Ukrainian immigrant settling in the US, providing authentic lessons and key takeaways designed to help you cultivate inner strength and dare to dream big.
Divided into four key parts, I Know What You Need To Succeed explores Kateryna's transformative growth from a waitress to a property manager and eventually a life & career coach. Her story is packed with no-nonsense lessons, offering guidance that will resonate with readers from all walks of life. Whether you want to discover your passions, reach greater heights, or succeed in your career, this book is an invaluable companion on your path to self-fulfillment.
Perfect for any high-achieving woman who wants to take the next step forward and live her best life, I Know What You Need To Succeed will help you no matter your current career or situation. Inside, you'll find tons of personal anecdotes and friendly advice, echoing a supportive message as it shares Kateryna's struggles – along with her solutions and advice to help you on your own journey.
Are you ready to start living your best life? Then scroll up and grab your copy today!
$0.99 on Kindle.