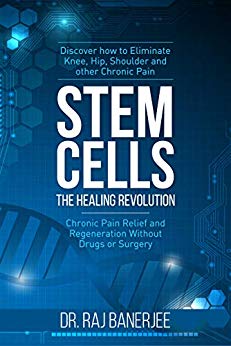 Bringing new hope to chronic pain and chronic condition sufferers! This book is about you and getting your life back. If you or a loved one is suffering from chronic degenerative knee, shoulder, or hip pain due to arthritis; or you have chronic inflammation or autoimmune issues, you owe it to yourself to see how Stem Cell Therapy can offer hope and healing!
The book answers the most common questions that people have about stem cells therapy. Can stem cells help with a serious medical problem? Are the treatments safe? How many treatments you may need? How fast will you see results? How to get 95% success rate? These questions and many more are answered here.
This is a complete easy to read guide for anyone interested in stem cell treatment. Dr. Banerjee reveals how this cutting-edge therapy can rapidly replace damaged cells in the body with no side effects or downtime. Stem Cell Therapy is one of the biggest medical breakthroughs in natural healing!
Stem Cells are master cells that have the capacity to develop into any other type of cell in your body. They are tasked with healing injured tissue, bone, ligament and tendon. Your body is continuously rebuilding with the help of stem cells. These cells repair your body in the same way your body naturally heals itself. The book, Stem Cells the Healing Revolution by Dr. Raj Banerjee, will provide key insights on how using stem cell therapy can help reverse chronic pain and disease, and help you or your loved ones get back to the life you love. Free on Kindle.