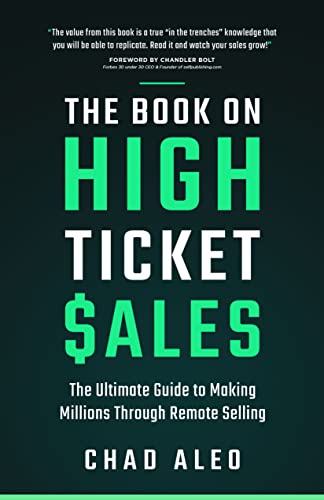 "The value from this book is a true "in the trenches" knowledge that you will be able to replicate. Read it and watch your sales grow!"- Chandler Bolt, Forbes 30 Under 30 CEO & Founder of selfpublishing.com
Are you tired of struggling to make sales?
Are you feeling stuck at your current income level?
Do you dream of achieving financial freedom and want to live life on your terms?
Or maybe you're tired of being in a dying sales role and ready to explore the new sales industry of remote closing…
Then this book is for you. In "The Book on High Ticket Sales" you will learn:
How to sell with a fearless mindset that challenges your prospects to take action without using "cheesy" sales tactics.
How to sell the way people WANT to buy. Knowing the "four buyer" types and how to sell to them so you stop losing sales.
Master and Answer any objection before they come up with a sales script broken down so you can understand the psychology of selling to its core.
How to find and land any High Ticket Sales Role through three simple tricks that allow you to become noticed and desirable.
How to master consistency in a one call close environment to avoid the rollercoaster of sales and become a top producer each and every month.
Don't wait. Learn the latest selling techniques to reach your potential in High Ticket Sales and master the art of remote selling. $0.99 on Kindle.