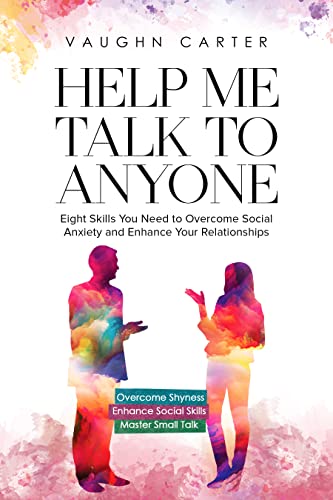 Conquer the dread of social interactions and turn awkward silences into witty banter.
Does the idea of approaching a stranger make your heart race and your palms slick with nervous sweat?
Do you turn into a shrinking violet during conversations, sneaking glances at the floor instead of making eye contact, keeping your thoughts to yourself for fear of uttering something cringeworthy?
Do you avoid social gatherings or parties like the plague because the thought of engaging in small talk sends shivers down your spine?
If you're nodding your head in agreement as you read this, then this book is your new best friend.
From the best-selling author of 'Help Me, I'm Stuck' comes a book that will have you fearlessly mingling in no time. It's the perfect guide to crush the jitters and self-doubt and help you navigate through social interactions with ease and confidence.
Here is a fraction of what you'll discover:
Proven techniques to silence that inner critic, speak up and be heard, and step into the social spotlight with quiet confidence and charisma
The sneaky ways you may be unconsciously manipulating others – and how to nix those habits for good
How to effortlessly strike up conversations with strangers and make new friends without feeling like an outsider
The trifecta of successful conversation and how to masterfully steer them toward delightful and meaningful social interactions
Significant roadblocks to effective listening and how to demolish them, leaving your conversational partners feeling heard and understood in your company
The secret recipe for stimulating conversations that leave your companions hungry for more
The profound difference between intent and impact and how to ensure your words and actions are received positively
Effective ways to transform surface-level chit-chat into thought-provoking conversations
The subtle art of conversation and hidden rules of engagement so you can carry on conversations like a pro
Interactive exercises that will elevate your communication skills to new heights
The key to making a lasting and positive first impression, whether you're mingling at a networking event or trying to sweep someone off their feet on a first date
And much more.
You must be thinking, "Being able to talk to anyone and overcoming social anxiety? That sounds like a tall order!" But it is entirely possible with this book as your wingman.
Imagine attending a gathering and actually feeling excited, engaging in animated conversations, and leaving the event having made a new friend or connection.
Whether it's a formal business lunch with your boss, a networking event for your industry association, or a fancy cocktail party where you don't know a single soul, this book will empower you to develop the self-confidence and presence necessary to hold your own in any social situation. $2.99 on Kindle.