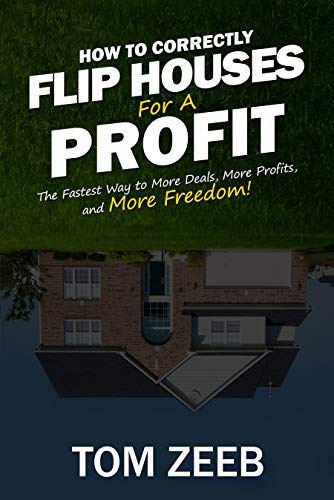 Inside You'll Discover How to Correctly Flip Houses for a Profit.
There is a lot of erroneous or flat-out wrong information out there, especially in the economy that we've had and the popularity of flipping houses from various entertainment shows. In this book, Tom Zeeb teaches you how to do it correctly… and achieve Total Freedom in the process.
How to Correctly Flip Houses for a Profit teaches you the 3 main pillars of the business and the 9 accelerator steps for achieving it correctly.
With the benefit of building your FLOW, CONFIDENCE, and GROWTH, you'll discover:
* How to market to FIND the hidden deals.
* How to negotiate effectively to MAKE the best deal.
* How to use the right legal contracts to protect you, your seller, and your deals so you GET PAID.
Since 2005, Tom Zeeb has been training real estate investors on how to correctly flip houses for a profit and how to build or retool their businesses to maximize profits and lifestyle. He shares the very best of what is working so you can do the same.
This book is essential reading for investors of all levels looking to improve their process, negotiation skills, and bottom-line profits, and is of particular value for new investors looking to shortcut their education and get it done correctly the first time through. Free on Kindle.