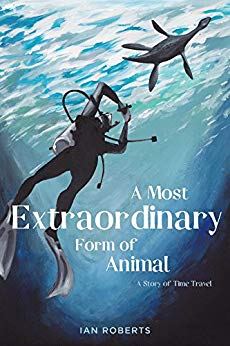 "'Legends?' Her heart missed a beat, the lights completely forgotten. A dark shape was moving with surprising swiftness across the black surface of the loch, its V-like wake clearly visible in the gloom."
The Loch Ness Monster – timeless legend, enduring hoax, or troubling chronological anomaly?
Drawn back to the 1930's by the enigmatic Ravenna Friere, palaeontologist Dr Eve Wells and curator Polly Nightingale find themselves on the trail of one of Britain's most enduring legends. But as they risk discovery diving into the murky depths of Loch Ness, only time will tell if they can ensure the monster becomes nothing but a myth for all time. A this gripping fantasy thriller by one of the UK's up and coming crossover authors.
"Ian is terrific at writing pure terror!" Penelope Wallace
A thrilling welcome to the eclectic time travelling world of Ian Roberts. $2.99 on Kindle.