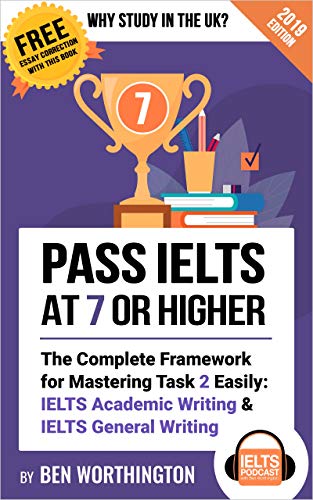 IELTS Essay Writing task 2 WAS frustrating and confusing!
This practical IELTS book helps you get ideas every time you sit down to write your essays. Quickly improve your writing skills and end: "MY MIND GOES BLANK".
This book promises to end your confusion with IELTS Task 2 and gives you a system for organising your thoughts.
Use our proven framework for Task 2 essay writing and get full points for Task Response and Cohesion / Coherence (for every essay you write).
We have added Band 9 model essays (academic and general) and even a section on sample ideas and answers for Task 2 questions.
Free IELTS essay correction (worth $16) with every book, because we believe the fastest way to improve is with professional feedback.
This is the same IELTS writing strategy countless successful students have used to jump to IELTS Band 7, 8 or 9.
Each month successful students are interviewed on the IELTS Podcast.
Through honest feedback (from our team of essay correctors) and the knowledge in this book, you can quickly improve your essay writing skills and pass the Cambridge IELTS / IDP test.
Both IELTS intermediate students and beginners can use this book to improve their IELTS Academic Writing and IELTS General Writing skills (Task 2).
This book is the second in a series about "Why Study in the UK?", over the next few months we will be producing more guides to help students decide if the UK is a suitable location. $1.28 on Kindle.