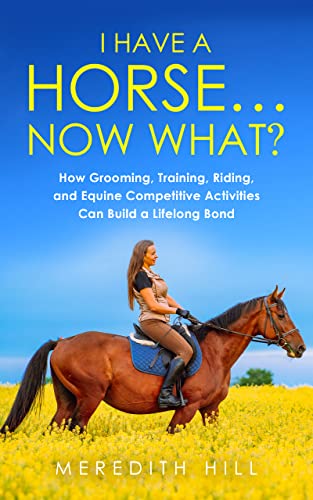 A horse is a horse, but this is your horse.
– What are your plans for your horse once you've signed on the line and paid?
– Do you have a trainer lined up?
– Have you decided how you're going to start working with your horse?
– Are you having trouble with those introductory icebreakers, and now you think your horse hates you?
– Are you wondering if you should have bought a horse after all?
Congratulations on deciding to take the step of adding a horse to your life! By now, you've made plenty of hard decisions, such as choosing the right horse and finding an ideal environment for him. But now it's time to interact with your horse. Interaction can be intimidating regardless of how much equine experience you have.
– Are you worried about how you'll spend time with your horse?
– Are you concerned about finding ways to connect with your horse?
– Do you have fears that your horse might hate you?
In I Have a Horse… Now What: How Grooming, Training, Riding, and Equine Competitive Activities Can Build a Lifelong Bond, author Meredith Hill helps first-time horse owners discover:
– How to make good first impressions on your horse
– Exercises that can help you build a working relationship
– Dozens of equine sports and activities to participate in
– How to connect with the equine community
Whether you're new to equine sports or looking to find a career that matches your new buddy's talents, you'll learn to build a valuable bond with your horse that can last a lifetime.
You don't need an impeccable show record to enjoy life with a horse– in fact, you don't need to attend a show. Meredith Hill gives readers the tools to pinpoint their equestrian goals and choose activities that match.
If you're ready to find new and interesting ways to interact with your horse, this book will fuel your excitement click BUY now!
$0.99 on Kindle.