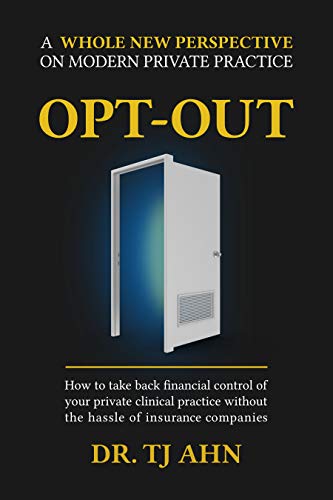 All across America, doctors are being forced to close due to the steady decline of insurance reimbursements. Opt-Out is a prescription for struggling private practice owners who want to turn their business around without relying on insurance networks.
Dr. TJ Ahn, a Korean-born podiatrist, enrolled in podiatry school, inspired by the "Golden Era" of private practice surgery. Fast forward 15 years, and Ahn finds himself in a completely different economic landscape fighting off monstrous waves of insurance-driven rules, regulations,
paperwork and headaches, leaving him to decide whether a medical career was even possible.
This book documents Ahn's decision to "opt-out" of the traditional insurance-based model in favor of a more profitable, more sustainable, and more patient-focused model that all private practice owners can implement before it's too late.
This is Dr. Ahn's playbook for success in the modern era of private practice, covering mindset strategies, productivity tips, social media tactics, niche development, influence and much more.
A powerful guide for physicians looking to bolster their knowledge in the most up-to-date strategies being used to develop and market private practices. Free on Kindle.