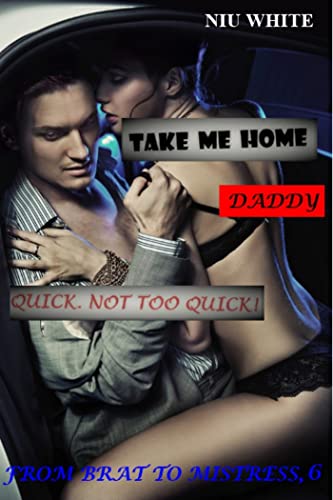 TAKE ME HOME, DADDY. QUICK. NOT TOO QUICK! FROM BRAT TO MISTRESS, SIX.
THIS VIRGIN BRAT NEEDS THE ALPHA MALE TO GET HER PREGNANT BEFORE HE DROPS HER HOME.
… I was stranded at the party. My friend had left with some guys and with the money her Dad had given us to take a taxi home…
… Pounding music. Lights turned down to a pinkish dimness. Bodies writhing in what may or may not have been dancing. Kids yelling in the kitchen. Couples disappearing up the stairs. Grungy guys eyeing my voluptuous body…
… There was only one guy I was interested in and that was my best friend's Dad, and he was at home on his own worrying about his slutty daughter. Good. Honest. Decent. Hunky. Drop dead gorgeous, Mister Maloney. I rang him.
"Jemma's just left with some guys. I haven't got any money!"
… I was alone in the car with the only man I'd ever wanted. My plan was working out just fine…
Enter the world of this horny brat and indulge your taboo fantasies of being taken, used, forced, dominated, and treated like a helpless toy. $0.99 on Kindle.