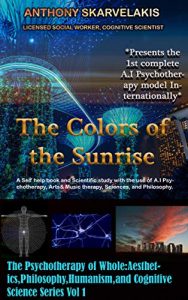 An amazing exploration of the mind is now possible for everyone. With the Colors of The Sunrise, the first volume of the series The Psychotherapy of Whole: Aesthetics, Philosophy, Humanism, and Cognitive Science the reader has the opportunity to engage with a book that utilizes the methods and structure of self-help, popular science, and expressive therapies books, to change all the sides of the human experience as it manifests in the social, psychological, bodily, and cognitive life.
Science, psychotherapy, philosophy, music, art and digital reality for the first time come together in a book phenomenon and a series designed during 16 years to provide the first A.I Psychotherapy model internationally, focused on a profound study that has been evaluated by leading names from many of the areas analyzed around the world. The reader gradually introduced to a healing result as it is offered clinical treatment to the senses, the psychological reality, and the cognitive mind structures, activating inactive cerebrum areas and getting informed about the manner of changing their behavior and thought.
The direct healing and the way to acquire therapeutic results in everyday life are supported by explanations that become easily understood by everyone. The book has been based on the background of advanced academic research, lending from the recent and updated investigations in an extraordinary number of areas. These include but are not limited to the disciplines of social sciences, psychiatry, philosophy, expressive art therapies, exact sciences, history, politics, artificial intelligence, and humanities that are presented from a global perspective.
As a Licensed Social Worker and Cognitive Scientist, Anthony N. Skarvelakis devoted many years of professional investigation to reach a cognitive metaprogram as a model that expands human thought, giving the solution searched for years regarding the design of the first complete model of A.I Psychotherapy globally. $8.42 on Kindle.