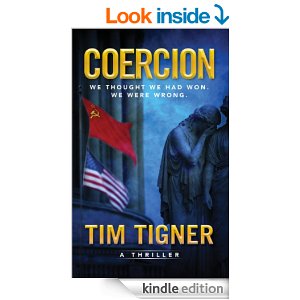 Written by a former Green Beret and counterintelligence specialist with a decade of experience on the ground in Eastern Europe and the Middle East, Coercion is a Robert Ludlum global conspiracy crossed with a Ken Follett historical drama.
On the eve of perestroika, Alex Ferris stumbles onto KGB General Karpov's scheme to regain Russia's superpower status while investigating his brother's death. After surviving attempts on his life and assembling bizarre clues, Alex settles on a most unusual suspect only to discover that Elaine is a victim herself. Unseen masters are forcing her into traitorous acts through nefarious threats. How many silent slaves like Elaine are out there? What do her tormenters want? Can he stop them?
Alex flies from San Francisco to Siberia to find those answers and avenge his brother. In the midst of that frozen landscape and those tumultuous times, he survives infiltration, interrogation, and romance only to learn that he too is being manipulated as part of a much grander scheme.
"An Entertaining Thriller … with well-paced action, appealing characters and snappy writing."
— Kirkus (starred review)