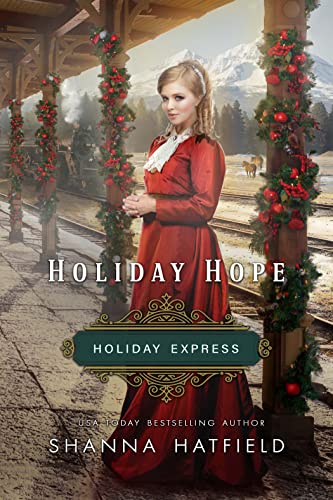 Left alone in the world after losing her parents, Cora Lee Schuster travels across the country to the newly-established town of Holiday, Oregon, to become a mail-order bride. She arrives in town to be greeted by her future father-in-law with her betrothed nowhere to be found. When it becomes obvious her reluctant groom-to-be has no intention of showing up at the family ranch where she's staying, Cora Lee must decide if she'll follow her head or heart.
Jace Coleman has loved trains since the first time he rode on one as a boy. Now, he spends his days as an engineer driving the Holiday Express line on a new engine named Hope. When a mail-order bride turns up at his father's ranch to wed his brother, Jace has an idea his meddling father has tried his hand at matchmaking. The longer Cora Lee stays at the ranch, the harder Jace works to keep from falling for his brother's intended bride.
Will Jace and Cora Lee discover the gift of hope? Find out in this sweet holiday romance full of memorable characters, warmth, and Christmas cheer.
Holiday Hope is the first book in the Holiday Express series, a collection of heartwarming, wholesome, holiday romances brimming with the spirit of the season. $0.99 on Kindle.