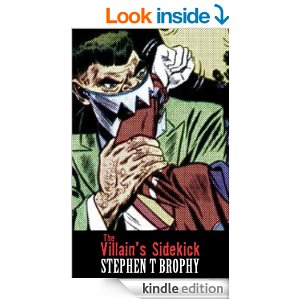 In celebration of the first anniversary of its publication, "The Villain's Sidekick" will be free for the taking for all Kindle and Kindle app users for five fabulous fun-filled days and nights starting on Friday September 5.
The story of a supervillain's henchman with a machine-gun arm, a steel jaw, an estranged six-year-old daughter, an angry ex-wife, an addiction problem and a troubled conscience, The Villain's Sidekick has been favorably compared to the works of Terry Pratchett and occupies the same psychic space as books like "Soon I Will Be Invincible," "Confessions of a D-List Supervillain" and "Prepare to Die." It's funny, violent, introspective, dark, ridiculous and fun.
And the price is right.