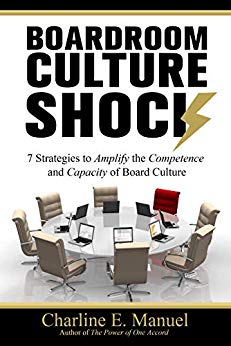 A BOLD LOOK AT THE CULTURE OF BOARDROOM DYNAMICS AND WHY ITS TIME TO CHANGE IT
In a rapidly changing socioeconomic and business climate, nonprofit board leadership is being challenged to reassess the way it has traditionally governed. Change, flexibility and adaptability are knocking at the boardroom doors with an invitation to consider strategies for expanding capacity and increasing board member engagement. When boards take a fresh view of the culture by which they oversee corporate affairs, they may be shocked to learn of outmoded approaches to deliberations and making decisions.
Boardroom Culture Shock: 7 Strategies to Amplify the Competence and Capacity of Board Culture addresses topics boards do not easily entertain.
Subjects on:
• seven counterproductive attitudes that block organizational health and growth
• drawing forth the best from board members,
• building a culture of open and honest dialogue,
• shifting to a more inclusive board,
• the one thing boards should do before attempting to raise money,
• solving the key complaints board members have,
• and more.
Offering insights into restructuring conventional attitudes, Charline ends each chapter with questions followed by practical application methods for amplifying the competence and capacity of the board. With the challenging and important work of nonprofits in a changing world, boards that are willing to shift their culture, will position the organizations they serve for positive health, growth and sustainability. Free on Kindle.