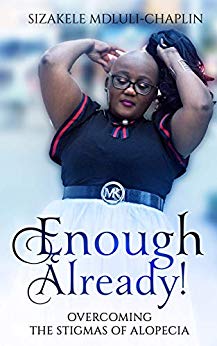 Enough Already! Overcoming the Stigmas of Alopecia is written with utmost boldness and honesty as she invites all readers to walk alongside her as she tells her story of living with the incurable condition of Alopecia, in which the immune system mistakenly attacks the hair follicles, thus causing the hair to fall out.
This book crosses racial and social classes, religious and educational hierarchies. No one is immune, and everyone is vulnerable.
What defines beauty? What steps are we willing to take to seek approval from the world's definition of "beauty?" At what time do we take a stand and say, "I am beautiful, no matter what! The author addresses these issues and questions the readers' own conscience by asking the reader, "What if this happened to you?" "What would you do?"
If you're living with alopecia, Sizakele understands. If you know someone with alopecia or have never heard the term, Sizakele educates you through this educational book.
Sizakele gives you all the tools you need to persevere: transparency, truth and myths, a sense of what to expect; she's a lifelong friend who will hold your hand through each step of your journey. So open the first page and start walking beside Sizakele on her journey. Trust her, believe in her, and know that you are beautiful. You are beautiful! See price on Kindle.