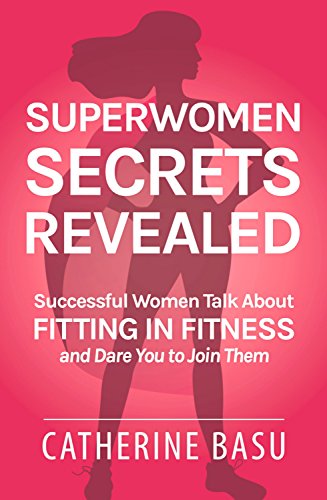 What do successful women have in common?
And…if you learned their secrets of success, would you feel motivated to reach your personal goals or overwhelmed?
In this inspirational, informative and action-oriented book, Catherine Basu takes you on a behind the scenes tour of the daily lives of amazing women-CEOs, female founders, attorneys, women entrepreneurs, and more-who have found a way to have more energy and focus in their lives.
Follow the advice in Superwomen Secrets Revealed and accept the fitness challenges (the superwomen fitness dares) and you will finally reach your fitness and life goals.
Whether you're a female entrepreneur looking to find more energy to fuel your dreams, a mom who wants to be a healthy role model, or simply someone who can't refuse a good fitness challenge, you'll find this book invaluable.
Get ready to change your world …and then THE world … one workout at a time! $0.99 on Kindle.