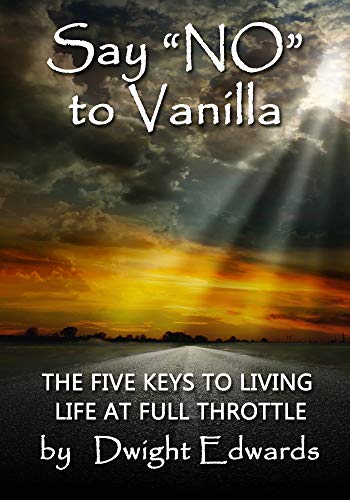 This book is dedicated to the belief that everyone is meant to live life at full-throttle. That we are all meant to be "vanilla-busters"; men and women who refuse to settle for an ordinary, mundane, adventure-deleted life.
It is about abandoning the security and safety of the bleachers to enter into the dangers and glories of the playing field. It's about giving up small dreams and bite-sized ambitions so that we can take hold of dreams and ambitions big enough to make our stay on planet earth worthwhile. It's refusing to allow someone else to do our risk-taking, and daring to live life at full throttle. It's about saying "no" to vanilla, and shouting "yes" to life.
Jim Collins, in his best-selling book "Good to Great", wrote an outstanding analysis of what separates the very best companies from the myriads of good ones. In it he carefully details the central, key, non-negotiable characteristics which marked each of these very best companies.
In a very similar way, "Say 'No' to Vanilla" does the exact same thing – only with people instead of companies. What are those few, key, non-negotiable traits which separate great existences from good or mediocre ones? What does it take to upgrade one's life from "good to great"? Or another way to put it, what are "the common threads of uncommon lives"?
For more than five decades, best-selling author Dwight Edwards has been studying and pondering this very issue. In this landmark book, he discusses in fascinating and compelling detail the five key components of individuals who have dared to become the best they could become and elevated their lives from good to great. The book is packed full of historical and biographical illustrations to support his five key traits. This is a book you cannot afford not to read! $5.99 on Kindle.