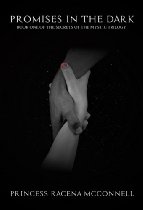 Rachel Adams and Derek Williamson never planned on meeting, much less falling hopelessly in love with one another. Each has experienced tragedy, and heartbreak that time has not diminished. At their first encounter they both experience an unexplainable overpowering attraction to one another even though neither of them are willing to admit it out of their own fears of being happy, As each of the two begin to accept an undeniable love that knows no limit— unimaginable secrets begin to unfold.
Their love was written in the stars long ago, and now as they uncover their true lives and their love they will discover that both time and fate linked their lives together in ways that are both electrifying and terrifying at the same time.
Just when their lives seem to be coming together they discover that there may be a force yet to be seen, yet to known that can and will destroy them and the life they have started together. Both Rachel and Derek will learn that some secrets are best left unknown, and some promises can never be broken. $0.99 on Kindle.