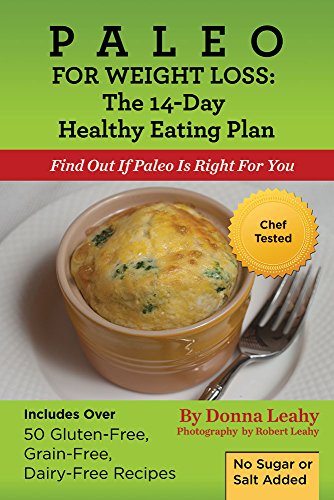 PALEO – you've heard the buzz. So what is Paleo? Can you lose weight on Paleo? And is it right for you?
"Paleo for Weight Loss: The 14-Day Healthy Eating Plan" will show you how to adopt a Paleo lifestyle to feel healthy, lose weight, and increase your energy level. This comprehensive guide will help you decide if the Paleo lifestyle will work for you through a 14 day healthy eating plan.
Enjoy Paleo-friendly versions of over 50 delicious recipes for every meal, created and tested by Chef Donna Leahy and accompanied by mouthwatering photos for each day of the challenge. Lose weight while enjoying every satisfying and delicious bite. Chef Leahy's detailed instructions and easy to find ingredients will have you cooking like a Paleo pro in minutes. Get your copy today and start cooking restaurant quality Paleo dishes that are easy to make at home. $0.99 on Kindle.